[Sold]
Selling:
Tackey & Tsubasa mini album Hatachi bag version.
Still sealed with all stickers intact and brand new!
Please note that this is the original, never-opened
Japanese-only limited version
, not a taiwanese/chinese/otherwise asian edition! I hate to part with it, but I need the money.
Starting price and explanations on how to bid at the bottom of the post!
Let's have a look at the item first. :)
Release Date:
2002 (Out of print item)
Label:
: Avex
Dimensions:
25,5 cm x 29,0 cm // 10,04 inch x 11,4 inch (bag)
Contents:
- six large photographs of Tackey,Tsubasa, and T&T together (in black plastic bag)
- CD "Hatachi" (in paper sleeve, wrapped)
- fold-out poster (motive as seen on cover)
- some small paper flyers
All items housed in a sturdy cardboard bag as seen below.
Please note that due to the size the bag did not fit onto the scanner completely, so the images below are pieced together from two scans. However,
all scans are from the actual bag that you will receive once you've completed your purchase
. You see what you get and vice versa. ;)
Images of the contents below are made from my version of the bag, I did not break the seal or otherwise pry open the bag subject to this auction!
Front: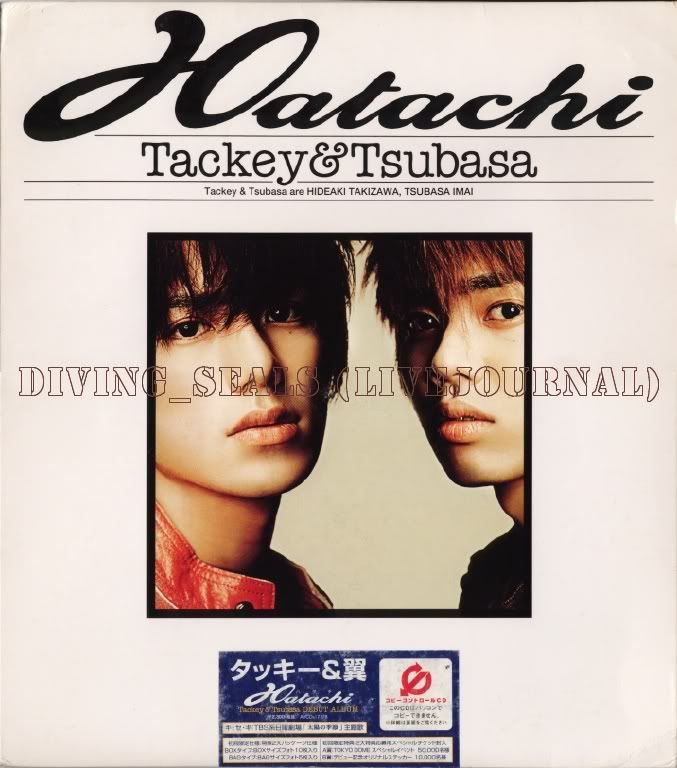 Sticker close-up:
Back: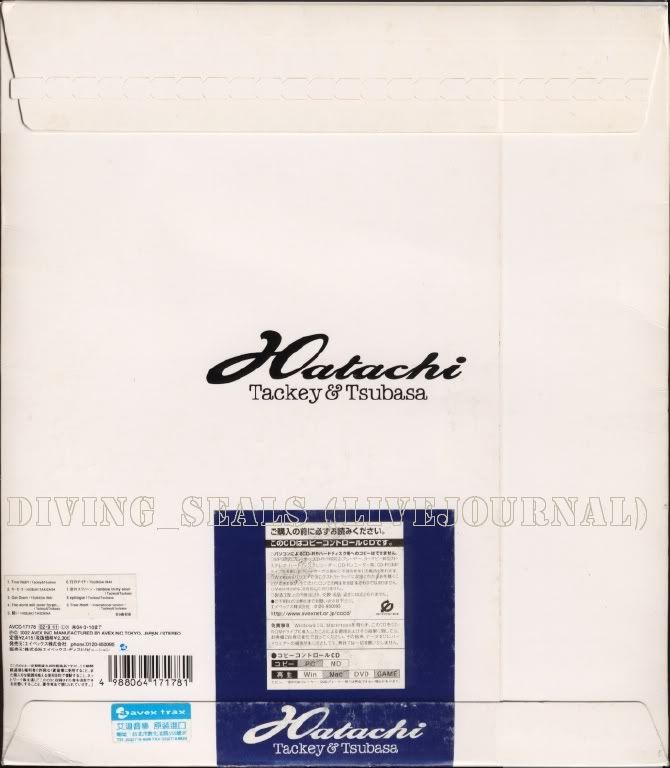 Sticker close-up: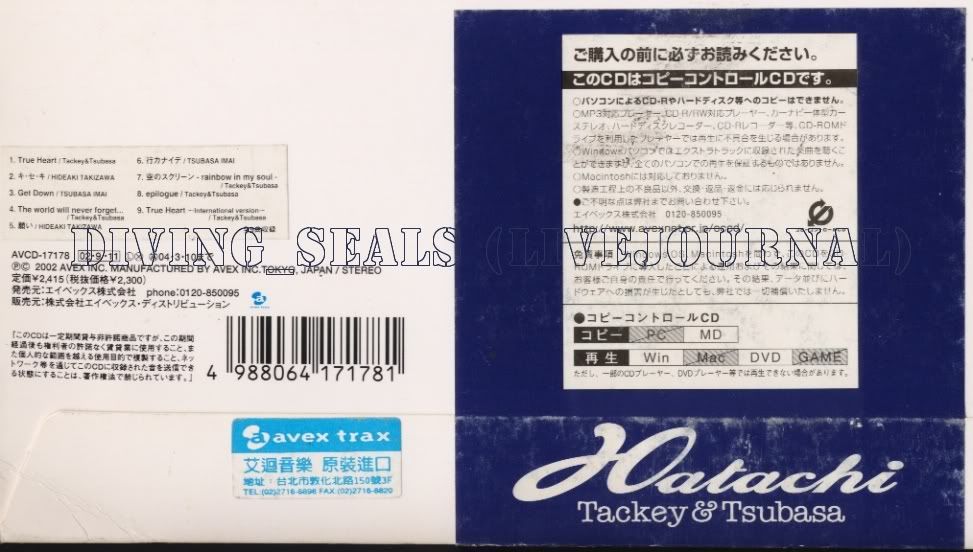 Contents straight out of the bag.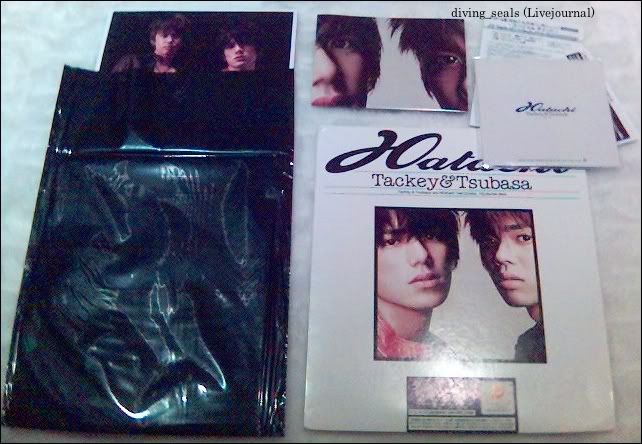 The CD paper sleeve (backside view) and the still folded poster.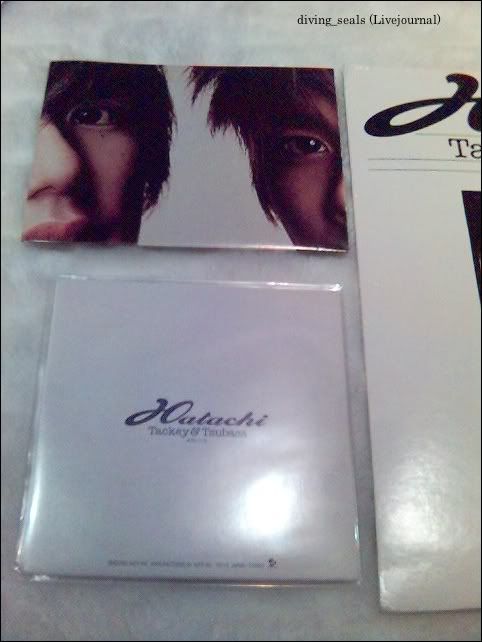 The CD comes in a separate, soft fabric sleeve within a paper slip case (frontside view).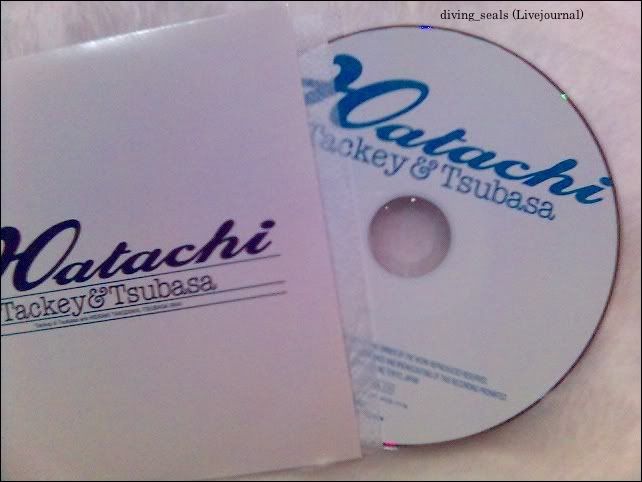 Spread out (opened bag at the top right is mine).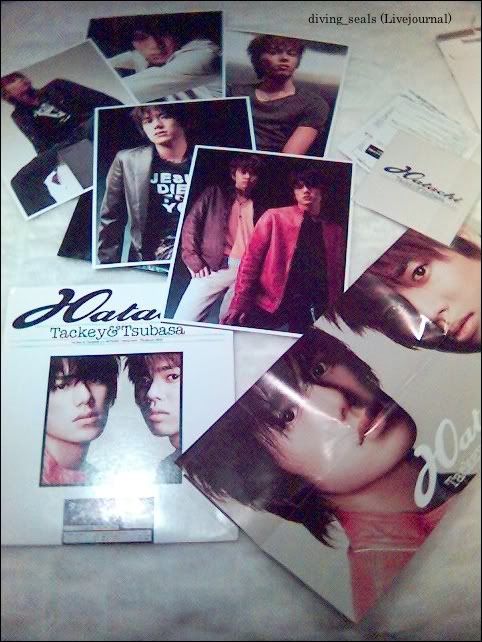 Print on the back of the pictures reads "Tackey & Tsubasa".
When you open the bag (I'm not saying "if", because it'd be a pity to just keep it and leave it unopened!), you can close it again with a paper catch as seen on mine, on the left side of the picture.
Rules
:
Will ship worldwide. Winning bidder agrees to send payment within 10 days of winning the auction (unless otherwise agreed beforehand).
Generally accepted forms of payment are Paypal (non-credit card unless you agree to pay the extra fees), and bank transfer (within Germany). Sorry, but I do not encourage concealed cash. For any other forms of payment, ask and we'll see what we can do. For more information, refer to the
FAQ
.
Added Shipping rates (Deutsche Post "Maxi Brief International") - Airmail worldwide US $12,50 (8€+0,80€), Sea/Surface Mail worldwide: US $9,65 (6€+0,80€ ). Within Europe US $7,50 (4,50€+0,80€). These rates already include US $1,20 (0,80€) fee for all handling/packaging costs and paypal fees, the rest is the opure shipping cost as charged by the postal service. (If cheaper rates are available at time of auction, you will be charged less accordingly.)
How it works
: The LJ-auction takes place Ebay-style. You post your bids in the comments or through email, and I'll keep the post updated. Bids in steps of US $0,50 or higher.
Shipping (rates listed above) is not included in the final bid. I'll keep the post updated and will contact the winning bidder through email and/or LJ-comment. Just as on Ebay, bids are binding, so serious bidders only please!
If you have any questions and queries, leave a comment or email sweet.bitter.chili.face\\AT\\googlemail.c
om. I'll try my best to answer or to provide scans, if need be, and I'll try to keep the bidding status up to date. Thank you very much, and happy bidding!
Bidding will end four days after the first bid!
Ending time: Wed., 10.10.07, 09:57 am UTC [11.57 am MEST]
Starting bid: US $35
Highest bid: US $40
Won by: leapinglucas
[Bezahlung in Euro ist natürlich auch kein Problem, Wechselkurs nach aktuellem Paypal-Kurs.]