Takizawa Enbujo (Japan Version, Limited Edition) starring Takizawa Hideaki.
Release Date: 2007.07.18
Brand new, genuine Japanese import, never taken out of the original wrapping.
Bonus extras that came with the first press preordered versions are included with this item (a gorgeous, large poster, which was exclusive to the first press of the DVD release, limited packaging).
This item is out of print and not available from the manufacturer anymore.
Starting price and explanations on how to bid at the bottom of the post!
Accepted payments: Paypal, Überweisung innerhalb Deutschlands. All currencies accepted, as long as you pay in US $ or Euro through paypal (you will be given the option to choose a currency to send money). No cash, unless it's Euro when you're picking it up, because concealed cash is too insecure for both parties, and I don't want anyone to be disappointed when it gets lost in the mail.
Shipping
(approximately, depending on exchange rates):
DVD and poster, boxed (DHL package <2kg)
Germany - 4,20€ Hermes Versand| US $5,40 (although why you should pay in Dollars when you live here is beyond me XD)
EU (Surface mail) - 8,60€ | US $11,80
EU(Airmail) - 12,90€ | US $17,70
Worldwide (Sea-/surface mail) - 12,50€ | | US $17,10
Worldwide (Airmail) - 25,4€ | US $34,80
Info above according to the latest Deutsche Post flyer. If a cheaper shipping method is available at the time of purchase, you will be charged less, of course. :) Suggestions and special wishes (i.e. EMS/ express mail) are welcome, just contact me and we'll work something out.
In addition to the above raw shipping rates, I charge a small fee for packaging and handling, which will be 0,80 € | US $ 1,09.
[Edit:] Scratch that. Sending posters is expensive enough, so I think there needn't be more fees on top of the shipping.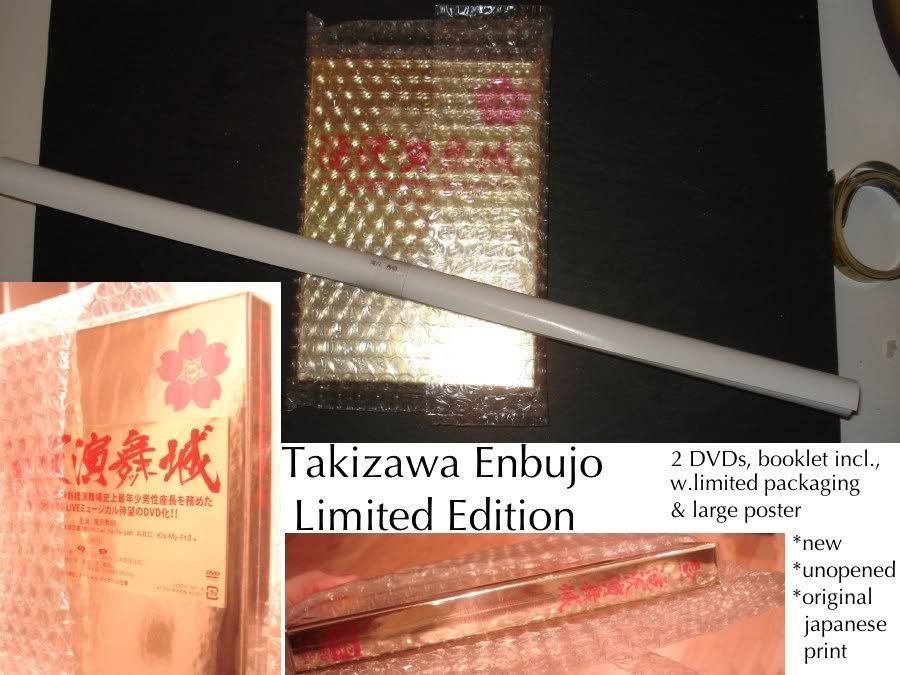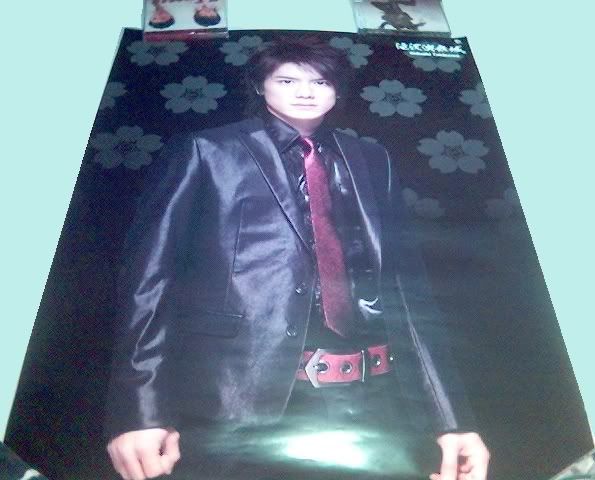 You can find other pictures of the DVD cover and the poster
here
.
It's even shinier in reality, and the footage is JE at it's best, there's flying, colours, sparkles and of course a beautiful Takizawa Hideaki. The poster itself is huge, only the width is 52cm. *_* There are two DVDs and a booklet with gorgeous photographs of Takki in various costumes. (I know that from my own copy... yes, I ordered it double in fear of not getting the poster from Yesasia. They did send it, though. -.-; You'll be purchasing a pristine, brand new DVD set. Yes, the price isn't exactly easy on the wallet, but it's a bit short of what I paid for it at Yesasia (US $71,49). o_o
How it works
: The LJ-auction takes place Ebay-style. You post your bids in the comments or through email, and I'll keep the post updated. Shipping (rates listed above) is not included in the final bid. I'll keep the post updated and will contact the winning bidder through email and/or LJ-comment. Just as on Ebay, bids are binding, so serious bidders only please!
If you have any questions and queries, leave a comment in this entry or contact me by email at sweet.bitter.chili.face\\AT\\googlemail.c
om.
Bidding ends one week after the first bid.
Starting bid: 50,00 €
Won by: iverin
If you want your comments screened, just say so. <3